Brainerd Minnesota German Shorthaired Pointer Puppies
AKC GSP MN Puppies For Sale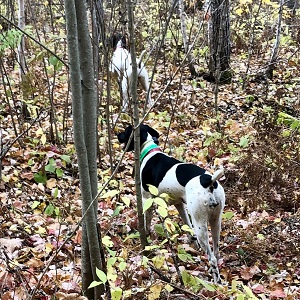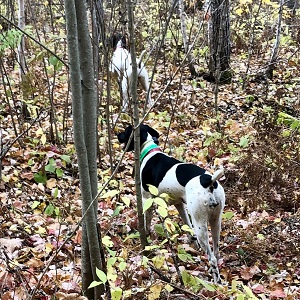 AKC German Shorthair Puppies:
Our AKC German shorthaired puppies for sale are the product of the same shorthair pointers we use in our bird hunting service. Their parents are excellent hunters and extremely well-trained dogs. They are also much mellower than the average German shorthaired pointer puppy for sale. This is because we focus on overall dog temperament, hunting instincts, and body structure when we select our GSP breeding pairs.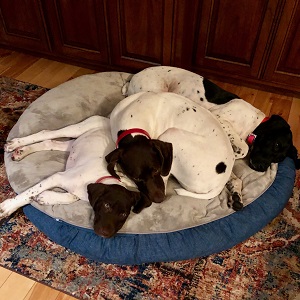 AKC Shorthair Puppies for Sale:
We believe GSP field trials have altered the temperament of most German shorthairs over the past forty years. As the skill levels of German shorthair pointers improved in these events, so did GSP field trial requirements. Shorthairs had to run faster, cover greater distances, and find birds planted farther apart. Only the highest-energy German shorthair pointers could compete at these levels. This meant most AKC German shorthair puppies for sale that were sired by field trial shorthair pointers had characteristics similar to their parents.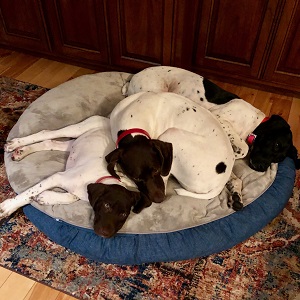 House-Sized German Shorthairs
Family GSP puppies for Sale:
High energy German shorthair pointers may perform well in field trials but they are poorly suited for the home. This is the main reason we altered our vision of the perfect German Shorthair pointer so many years ago. We wanted to produce GSP puppies with fabulus hunting traits that were also well suited for the home. This vision led us to smaller, mellower, German shorthaired pointers. Shorthairs that performed well in the field that were great house companions. Our GSP puppies for sale are the produce of thirty-five years of work.
Grouse Hunting Dogs
Our German Shorthair Pointers are exceptional grouse hunting dogs. They deliver rock-solid points, hunt close, and remain steady to flush. Our German Shorthair puppies will enhance your Minnesota grouse hunting experiences. Learn more about our stylish pointers and German Shorthaired pointers puppies for sale by clicking litters.
Pheasant Hunting Dogs
Shorthair Pointers are fabulous pheasant hunters. Our dogs hunt close, provide stylish points, honor other points, and retrieve shot birds to hand. One of our female pointers has 2000+ birds to her name. Learn more about the purebred German Shorthair puppies for sale and upcoming puppy litter announcements by clicking litters.
Family-Friendly Dogs
We bred GSP pointers based on their temperaments, color, style, and hunting skills. We are not interested in producing high-energy field trialing shorthair pointers. Our Shorthair pointer puppies are family-hunting dogs. They are known for relaxed natures and sweet dispositions. Learn about German shorthaired puppies for sale below.
House-Sized Shorthaired Pointers:
The heights and weights of our German shorthaired pointers are slightly smaller than standard but they still maintain the same long-legged, deep-chested, lean-looking features of the larger German shorthair pointers, just at a smaller scale. Our female pointers' weights are in the low forties while our males top out in the low fifties. Our shorthair pointer puppies for sale have the same genetic dispositions as their parents. They are extremely calm, have strong pointing instincts, and make excellent family-hunting dogs.
House-Sized German Shorthairs
MN Shorthair Puppies for Sale:
The German shorthair puppies we sell are available in limited numbers in infrequent years. We are not a puppy factory. Our German shorthair pointers are excellent hunters but they are also family dogs. We only bred our shorthairs to improve their genetics and to maintain our families' bloodline. Most of our German shorthair puppies for sale are spoken for before the puppies are born.
Family-Friendly GSP Puppies for Sale:
Family-Friendly GSP Puppies:
Our German Shorthaired Pointers make excellent family pets and hunting companions. Our breeding philosophy focuses on the goal of producing a German shorthair pointer puppy that is equally suited for hunting and home. The shorthair puppies for sale are products of this selective breeding.
Blong's Brainerd Guide Service © 1985
Brainerd Guide Service © 1985